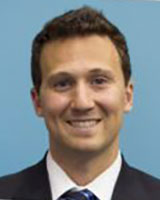 I am seeking reelection for my 2nd term as Treasurer of the Greater Chicago Chapter. After graduating from the Kelly School of Business at Indiana University with a B.S. in Finance, I spent several years working on the investment and consulting sides of the financial services industry. During that time, I developed an extensive background in financial analysis, accounting, and risk management. For the past 8 years, my career has been dedicated to helping organizations design and implement strategies that impact a company's bottom line through injury reduction, enhanced employee well-being, and improved safety culture. From this work I bring experience in injury prevention, ergonomics, Total Worker Health, and organizational change management to our chapter's leadership team.
Throughout the challenges of this past year, my focus as Treasurer has been on ensuring the chapter remains financially secure to serve its members, maintaining detailed recordkeeping, and providing thorough oversight of fund allocation. During the pandemic, our chapter has been able to increase our fund savings while continuing to support local charities such as Salute Inc and the Chicago Food Depository. I have helped lead the development of our chapter's sponsorship program that will provide a new source of chapter funds and create opportunities for valued partners to be recognized. I've also worked closely with our Chapter Officers in finding new ways we can host events that help promote knowledge sharing and professional development.
I look forward to continuing to support the growth of our chapter and the value it provides to our members.